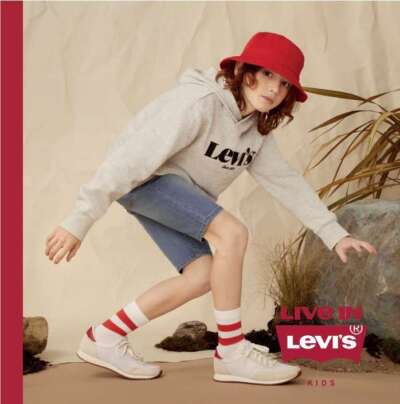 The American brand Levi's was founded in 1853 by Oscar Levi Strauss. Since 2005, Levi's has focused on the child and teen universe with respect for Levi's codes. Levi's remains more demanding than ever when it comes to quality, from a brand that stands behind the statement "Qualitiy never goes out off style"
Levi Strauss & Co. is one of the world's largest clothing companies and the world leader in jeans. They have about 500 stores worldwide and the products are available in more than 100 countries. The Levi's® brand is only part of the story. They are also the makers of the Dockers® and Denizen® brands.
Founded in 1853 by Oscar Levi Strauss, the brand has been translated into the child and teen universe since 2005, respecting Levi's codes. Currently, Levi's is the largest player in the world in the field of Jeans with the slogan "Quality never Goes out of Style". Because Levi's is demanding in terms of quality, Levi's maintains its position in the major fashion industry all over the world. Levi's sizes are: Baby 3M, 6M, 9M, 12M, 18M, 24M and 36M – Kids & Toddler 2A, 3A, 4A, 5A, 6A and 8A – Teens 10A, 12A, 14A and 16A.
Benefits Levi's:
Mix & Match collection
Marketing support
B2B webshop
NOS program with direct delivery
Free size division
Default margin
Multiple collections per season
Standard excellent quality
Contact: Jeremy Sydor
Phone. +333 25 777 800
E-mail. Jeremy.sydor@haddadeurope.com
www.mauriksmodeagenturen.nl
Sales agent: Mauriks Mode Agencies
Email: rick@mauriksmodeagenturen.nl / info@mauriksmodeagenturen.nl
Phone: 0418 514 208 / 06 12 25 58 72