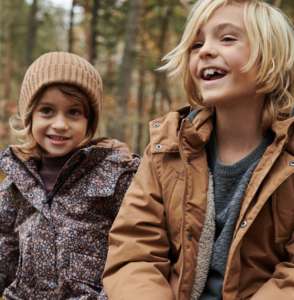 Wheat is a Scandinavian kids fashion brand with focus on sustainability, great quality and comfort that ensures the child's freedom of movement.
Wheat was founded in Denmark by the Danish couple Charlotte Galsgaard, Chief Designer & Founder and Peter Galsgaard, CEO & Founder.
For Charlotte, children have always been her focus. Having raised three children of her own, she understands the special demands of children's wear. Each garment is therefore tailored for a child's wear and tear. The use of natural fabrics and adjustable elastic waists ensures the child's wellbeing and freedom of movement.
When wearing Wheat, children embody the relaxed Scandinavian lifestyle of quality and comfort. Wheat's strong design philosophy, together with Charlotte's desire to interact closely with both manufacturers and consumers, has paved the way for a well-organized, successful company that continues to grow season after season.
Along with the motivation from home, Charlotte has always found inspiration to new collections and designs in the Danish romantic landscape and the Swedish countryside. Each season is unique with simple lines, and the Wheat spirit of classic 'bohemian harmony' is always to be found.
Over the years our beautifully hand drawn prints have become a high demand from our customers and partners and are now a strong part of our brand DNA.
We make sure to implement flower prints and the design team draw around 20 different allover prints each season. Wheat has two collections a year – Spring/Summer and Fall/Winter.
With the clean lines, light color combinations and original patterns, Charlotte eloquently carries on the Scandinavian design tradition.
E-mail: Tcj@wheat.dk
Contact person: Thomas Jensen 0045 93910163
Telephone number : Wheat: 0045 45200220
www.wheat.eu, www.wheat.dk, www.wheat.no, www.wheatkinder.de