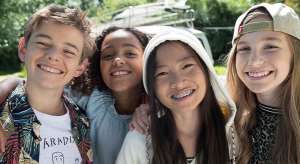 A Dutch brand for hip, urban teenagers, launched in Winter'16.
The collection is designed in cooperation with young influencers and it's  a mix of high fashion and streetwear, with an own identity.
SCM tells the story of  2 characters Luna Hill and Charlie Ray, 2 young ones who grew up with their friends in a Street called Madison.
SCM is for girls and boys.
#themadgeneration
Ages: 4 till 18 year
Sizes: 104 till 176
Instagram: streetcalledmadison
Facebook: Street Called Madison
Website: www.streetcalledmadison.com
Contact persoon: M-Agency – Maarten Kokkeler
Email: maarten@m-agency.nl
Telefoon: +31 6 2716 9445