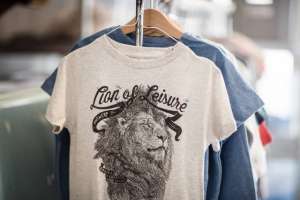 Lion of Leisure is a small, independent kids clothing brand based in Antwerp/Belgium.
Founded in 2013 by designers Matthew Grove (UK) & Saskia Solberg (NL).
Each product we produce is carefully and lovingly screen-printed by hand.
Each of our garments is constructed from Organic Cotton, certified by the Global Organic Textile Standard (GOTS) and the Fairwear Foundation.
All graphics are printed with biodegradable water-based inks that are not harmful to you, to us or to the environment.
Buying our products will not save the world from destruction, but its creation will not have contributed significantly to it either.
The Lion of Leisure collection is non-seasonal and gender-neutral.
We print to order and offer short term delivery at any time of the year.
Contact: Saskia Solberg
E-mail: Saskia
Tel:+32 499 710519