Only 2 weeks and 2 days to go before we can finally get going with SundaySchool. Well, by get going, we mean the actual exhibition day, because behind the scenes not only us, but also all brands are already busy preparing for a huge inspirational exhibition again.
In all the hustle and bustle you could have missed some of the most important news and that is why we have listed them all.
Bear & Mees X No Wild Life Crime
Bear & Mees has set up a partnership with No Wild Life Crime to financially support the "Shark Stewards" foundation in their fight for shark conservation on the island of Lombok in Indonesia. No Wild Life Crime is an animal welfare organization founded by the well-known biologist Freek Vonk.
You can read the entire article here.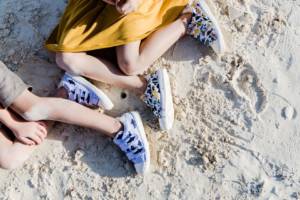 Presented during SundaySchool: JuJa
Here at SundaySchool we love sustainable and environmentally conscious projects and UV-Fashions owner, Jan Willem van der Sterre, has set up a fantastic initiative for that. During Sunday School he will present his environmentally conscious, UV swimwear for the very first time. The UV swimwear is made from plastic bottles picked up from the beach and from the ocean. The bottles are processed until it forms the fabric for the UV-resistant swimwear. Our beaches and oceans are becoming a little cleaner and children are protected from the sun at the same time. The UV swimwear from JuJa will also be shown during the fashion shows at 12:30 pm and 1:45 pm.
You can read more about JuJa here.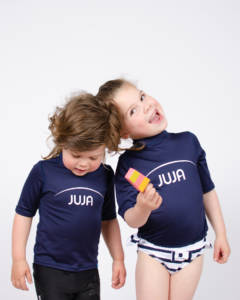 The people behind SundaySchool
In our series "the faces behind SundaySchool" we introduce you to all the fantastic people who are behind the success of SundaySchool. All of them huge creative people who have been involved with SundaySchool from the very beginning. This week we had an interview with Manon Laarhoven, the power woman who is closely involved in everything that has to do with the fashion show.
Earlier in the same series we had an interview with Rob de Vos, co-founder and driving force behind SundaySchool, Stefan Flint, co-founder of SundaySchool and the man who had the very first idea for SundaySchool and Huub Broks, our fair coordinator . The spider in the activity web.
Next Wednesday will end our series with Roel Ruyten, responsible for the fashion show, together with Manon.
New brands
We've also added a number of brands that will be present on 30 June: Babiators, Binki, Ceci, Duukies, Hound, iBi Free Life, Jacky Luxury, Jupe de Plume, Ki ET LA, Müsli, Napapijri, Rilla Go Rilla / Studio Ditte, Sea Crocodile, Snapperrock, Someone, Tiffosi Kids and Zippy.
You can find all the brand that will be present on June 30th on our brandpage.
Early Bird tickets
Don't forget that today is the last day to purchase your early bird tickets for only €12,50. From tomorrow on and at the door tickets will cost €17,50.