The fashion shows are a part of SundaySchool that have been around since the beginning and attract many visitors every edition. Organized by the JustbyManon team, among others. The JustbyManon team consists of 3 people: Manon, Rosanna and Sonja.
Manon Laarhoven is the founder of JustbyManon and closely involved with everything that has to do with the fashion show.
So it's time for an interview with this power woman!
How did you end up at SundaySchool?
When Rob and Stefan were still working on the plans to organize their first SundaySchool, they called me to brainstorm with them. We met in the Fabrique where Rob and Stefan enthusiastically told me that they wanted Sunday School to become more than a regular fair. The goal was to have retailers go back to their stores, inspired by a day of Sunday School. Of course, a fantastic fashion show could not be missed. When we were in the Perserij and I was asked if I wanted to organize that fashion show, I could only say yes. Afterwards also the very best answer I could give, because I still enjoy organizing the shows.
What else do you do besides Sunday School?
I started in 2011 with JustbyManon.nl, a children's fashion blog with the latest trends in children's fashion. For years we have written daily inspiration blogs about children's fashion. After about 6 years, JustbyManon had grown too big to stay a regular "blog" and we wanted to do more than just inspire our 60 K followers on social media. As a photographer and stylists, in addition to the fashion show, we now also organize events in children's clothing stores and we do styling shoots for brands, children's clothing stores and web shops. In short, we have all the knowledge to give each brand its own identity. A great job!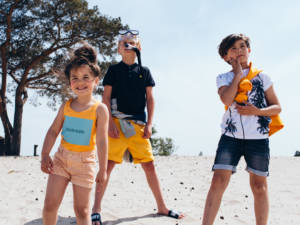 What did you do before this?
Before I started JustbyManon I worked at ID Retail, this was a franchisee of Bestseller. This franchisee opened about 30 new branches of Vero-Moda, Only, Vila and Pieces within 5 years. As a result, my job grew from Rayon Manager of 4 branches to a job where I was responsible for managing all the store management staff. In addition, I was responsible for purchasing around 30 branches. After the birth of my first son (2006), the company had grown to such an extent that I had the opportunity to set up a separate purchasing department and I managed the Rayon Managers of all ID Retail branches. In those years I gained so much Retail knowledge and also learned to always look ahead when it comes to purchasing. I took that experience from women's fashion to children's fashion and led to the success of JustbyManon.
What's involved in organizing the fashion shows?
We start with a kick-off meeting about 3 months before the Sunday School. Together with Rob, Stefan, Roel and Huub we then have a brainstorming session on the theme. This meeting often leads to beautiful and grand ideas. Then, together with my team, I approach the brands and we select the models. Because the new collections of the brands sometimes only arrive a few days before the Sunday School, styling the show is really a last minute job. A day before the show we receive the clothing at the location and we have all 200 outfits ready for the fashion shows. Then it's almost showtime.
You work together with Roel Ruyten for the fashion show. How are the tasks divided?
Roel loves the spotlights, so he arranges everything at the front of the show. Think of choreography, light and music. I organize everything at the back of the fashion show and have contact with the brands, models, make-up and the hairdressing team.
How many models participate in the fashion shows? And how are these models selected?
In the last 3 editions we have had a fairly fixed crew of around 25-30 models. Unfortunately, small models grow large, so we did a scouting with the #jbmmodels on Instagram to select our model team for this edition. In addition to a large number of permanent faces, you will also see many new models on the catwalk on 30 June 2019.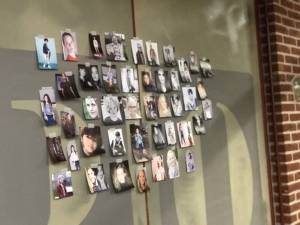 How many people work behind the scenes during the fashion show?
During the preparation of the fashion show, everyone is very focused on their task within the fashion show, but as soon as the day of the show arrives we are one big team. The people from the Fabrique rebuild the location until… (that remains a surprise) and at 9 a.m. the venue is ready for Roel catwalk training. Claire Garlund provides a wonderful 'summer feeling' from the speakers. The make-up artist (Shareen) and the hairdressing team (Wanda and Nicole) make the 30 models even more beautiful than they already are. Of course there is also a lot of help from the Fabrique for the light and sound and we are provided with a delicious lunch. During the show there is 1 supervisor per 2 models to help them change behind the scenes. The parents of the models are also our heroes, because they also enjoy watching and helping "behind the scenes". Rosanna and Sonja are in contact with Roel during the show to throw the models on the Catwalk at the right time. And I finish the outfits at the last minute. It is quite a well-oiled machine behind the scenes, but we have also run after a model who wanted to step onto the catwalk in the wrong outfit. Oops!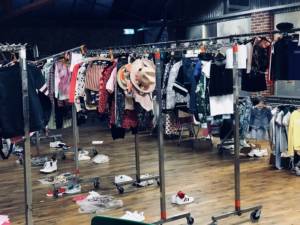 Why should visitors not miss the fashion shows?
We want to inspire you, but your mouth may also fall open with surprise. The 25 models show around 100 outfits from around 20 brands in 30 minutes. Collections with a story behind them, which have been worked on with blood, sweat and tears. Beautiful models, perfect styling, swinging music and a pleasant atmosphere. I can't tell anything about the great theme, but I promise you that this show will be talked about for a long time to come! You just want to be there!
Will we see you June 30 at 12:30 pm and 1:45 pm?
What do you hope will happen with the fashion show sometime in the future?
When it comes to plans, we always have great ideas "for later" on the shelf. The plans made for edition 2 that were still a bridge too far at the time, will be realized during the fashion show in this edition. As a stylist I would love to style a few more runs during the fashion show with brands in the mix. This allows us to show visitors that by mixing different brands and styles you can create your own identity within your store or webshop.
Which brand would be your ultimate dream if you could have it again in the fashion show?
I am already very proud of the mix of brands we have had over the Catwalk in the last 3 editions. Small emerging brands combined with major national and international brands. I think it is especially important that we can show a wide range during the fashion show so that it is inspiring for all SundaySchool visitors.
What is your personal favorite clothing brand that you would very much like to see kids make more?
I love American Vintage with here and there some fun and prints from the collection of Essentiel Antwerp, among others. I see a mix of the two as a children's clothing brand!
You have 3 sons, what kind of clothing do they like to wear?
My three sons (8-11-13) are real denim boys. A cool black skinny, the perfect T-shirt with raw edges, a cool hoodie or sweater, combined with a pair of hip sneakers! I notice more and more that the youngest two see their big brother as a source of inspiration. Like many teenagers, his style is very basic. Fortunately, he does opt for high-quality items that are special due to details and finishing.
You also do styling events and assignments with JustbyManon. Can you give a golden styling tip for retailers who want to advise customers?
That your mission should be "surprise the customer" during styling. Whether we provide styling advice online or in-store, we always want to show something that the customer or follower has not yet seen.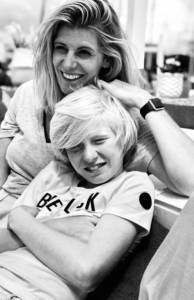 Next week we will speak with Roel Ruyten, the man who's responsible for everything at 'the front' of the fashion shows.