After a long time of behind the scenes preperations, many conversations, adjustments and the final fine tuning, the time has finally come. We are finally going to publicize what we have been working on for a long time and, above all, we are extremely proud of!
In our opinion a very good addition to the fantastic event called SundaySchool.
SundaySchool proudly presents: the SundaySchool app!
We bring you a fantastic new and above all sustainable medium for visitors to SundaySchool. Very useful and informative during your visit to the exhibition. No more hassle with a paper map that becomes crumpled or dirty, no more unnecessary waste of paper, but everything clearly arranged on your own mobile. Can it get any more 2019?
The SundaySchool app contains maps, lists of participants, the program of the day and of the fashion show and other practical information.
In short, an essential app for everyone who got lost in the Fabrique last time. But of course also for all other visitors, because with the app you have that little bit of extra information about everything there is to see, to do and experience at SundaySchool.
The SundaySchool app is available to download, from June 25th, in the App Store and the Google Play Store.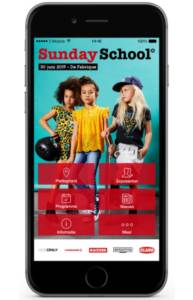 Extra information for exhibitors:
For more information and participation options you can contact Fiona Schreiner untill June 28th: +31 6 81740240 fiona_schreiner@icloud.com