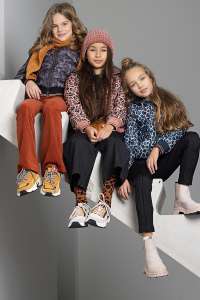 NONO stands for 'girl power'!
Clothes help girls find their place in the world.
In this way they radiate who they are or who they want to become.
We help them develop their own unique personality"
With every collection, NONO offers a framework within which young girls can choose their own style. And that can differ from day to day ;-).
We develop high-quality collections based on a creative and idiosyncratic concept that connects to the target group and responds to trends in fashion.
The collections are offered from size 104 to size 164.
show yourself! Create your own style
-X- NONO
Contactpersoon: Marcel Roffelsen
Email: marcel@brndwrks.nl
Telefoon: +31 653354158
Contactpersoon België: Odette Mes
Email: odette@brand-works.be
Telefoon: +32 496364756
Contactpersoon Duitsland: Anja Hülsbeck
Email: info@handelsagentur-huelsbeck.com
Telefoon: +49 15772999046