Tumble 'n Dry introduces something new! This new collection will be shown to the public for the first time during Sunday School. At the Tumble 'n Dry stand, which can be found in the Copraloods (stand C11.06), a special corner will be set up with the Tumble 'N Dry UPF50 + Swimwear. The new UV protective swimwear collection, combined with the SS20 collection from Tumble 'n Dry, will also be shown on the catwalk during the fashion shows at 12:30 pm and 1:45 pm. All the more reason to walk past the Tumble 'n Dry stand on Sunday and admire the collection during the fashion shows.
We're talking about a special fashionable UV-protective swimwear collection for both boys and girls. The new swimwear collection is available in sizes 68 to 176.
The beach is calling!
Tumble 'N Dry gives great importance to good sun protection. Thanks to the new UPF50 + swimsuits, good sun protection no longer has to be a challenge. The swimwear not only protects against the sun, but with the cool and trendy prints of Tumble 'N Dry, the kids also look very fashionable and action-proof. The advantage of UV-resistant swimwear is that the clothing also protects when wet, the fabric dries quickly and is breathable.
This collection contains for the little boys in size 68-98 an allover leopard in army green and a fresh blue octopus printed bodysuit. For the boys in size 92-176 there is cobalt blue shorts and a faded jungle print shirt. Of course with matching shorts. The beach girls are completely on trend in a leopard and flowery allover bodysuit with long sleeves.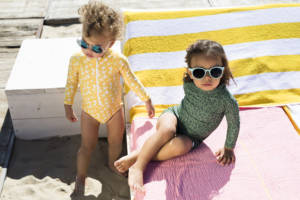 This new swimwear collection supports the mission of Tumble "N Dry" inspire to play ". Playing outside safely, building sandcastles, romping in the sand and running into the waves without the sun's risk and without an extensive sunscreen applying session.
What are you waiting for? Let's go!