A new Dutch brand will be introduced during Sunday School on 30 June. This time it is JuJa's turn, the first environmentally conscious UV brand. The UV swimwear of this brand is made of plastic bottles found on land and in the ocean. In addition to blocking harmful UV radiation that protects the skin, the UV swimwear from JuJa stands for durability. The first collection of UV swimwear from JuJa is for children from zero to sixteen.
Green UV clothing: swimming in plastic bottles
While the Dutch are slowly discovering the need for UV clothing, Jan Willem van der Sterre is already one step further: UV clothing must also be sustainable. He thinks it is important that an environmentally conscious UV brand comes on the market in the Netherlands. The UV swimwear is made from PET bottles picked up from the beach and from the ocean. The bottles are processed until it forms the fabric for the UV-resistant swimwear. In this way we keep our beaches and oceans a little cleaner and at the same time you protect your child against the sun.
Van der Sterre's nickname is Mister UV. He has been working intensively for years to prevent sunburn in children and adults. The number of skin cancer patients in our country is still rising and it is therefore important to wear UV clothing and to be aware of the harmful effects of the sun. Van der Sterre knows all about this. He lost his own father to melanoma cancer and therefore founded the wholesale and online store UV-Fashions. The company has become Europe's largest supplier of UV (swimming) clothing and UV-resistant accessories for the whole family.
Now that this specialist webshop has been running successfully for eight years, Van der Sterre thought that there should be a green Dutch UV brand. He founded JuJa and named the brand after his children Julia and James. With JuJa he concentrates on the protection of children's skin and on the use of environmentally friendly, recycled raw materials. He implemented this in detail: for example, the clothing tags and the packaging are made from recycled material. Van der Sterre wants to accelerate into a circular world and lead by example. By wearing the new collection from this brand, you save the environment and protect your child against harmful UVA and UVB radiation. A lot of attention has been paid to the fabrics, designs and nice fresh prints and a plastic bottle even symbolizes JuJa.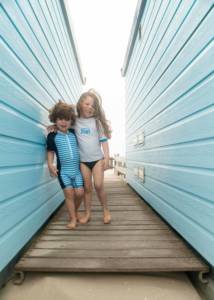 On June 30th UV Fashions will present their recycled UV swimwear for the very first time during the SundaySchool Fashion Shows, at 12:30 and 13:45!
The swimwear from JuJa will also be on display at the UV Fashions stand and there is the possibility to ask questions. Would you rather make a personal appointment for an interview? Then mail: jw@uv-fashions.com.