Bear & Mees, the new animal-friendly Dutch brand for children's shoes, will be present for the first time at Sunday School on 30 June. Good to know: the shoes from Bear & Mees are made from organic cotton and recycled PET bottles.
That this environmentally and animal-friendly brand has entered into a partnership with an organization that is committed to animal welfare seems a logical step. No Wildlife Crime (NWC) was founded by Dr. Freek Vonk (a famous Dutch biologist, who has tv shows and is very popular amongst the children of the Netherlands). This foundation contributes to reducing the poaching of wild animals. NWC sponsort Shark Stewards. The mission of Shark Stewards is to restore the health of the oceans by saving sharks from overfishing and the trade in shark fins. In addition, they protect shark habitats by establishing maritime areas and shark reserves.
#HAAITJEVOORKARWEITJE
Bear & Mees wants to activate and motivate children to contribute to this foundation. They can do this by doing chores in or around the house, such as selling cupcakes, trading in empty PET bottles or running a sponsor run at school. Bear & Mees asks all children to share the collection campaigns on social media in order to inspire others. They can do this by using the hashtag 'shark for work' and tag Bear & Mees and NWC in it.
SHARK STEWARDS With the money raised, NWC will sponsor the "Shark Stewards" foundation with their fight for the preservation of sharks on the island Lombok in Indonesia. Together with Shark Stewards, the NWC can ensure the conservation of Bali Bali sharks, white-spotted bamboo sharks and white-tip reef sharks. For every € 100 that is earned, Bear & Mees and NWC adopt 1 shark together to protect them from poaching.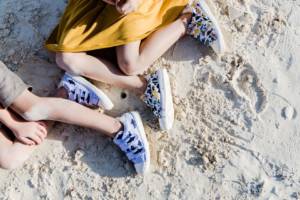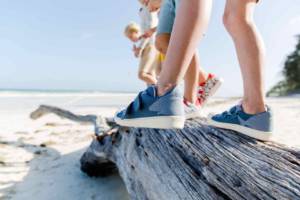 The special shark sneakers (just like the other Bear & Mees sneakers and sandals) are available on the Bear & Mees website.
More information about this promotion (and the other products) from Bear & Mees: Beline Jurgens M: beline@bearmees.com T: +31 6 46 38 40 11