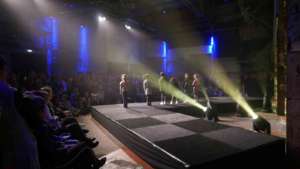 22 mei 2018
Dutch children's fashion fair "SundaySchool" enters second round
The second edition of the children's fashion fair "SundaySchool" starts on 1 July in the Netherlands. Inspired by the first edition of Bread & Butter in Berlin, the SundaySchool was launched in the same format. Following the success of the first edition, the continuation with more than 120 brands is to be even larger.

The children's fashion fair will take place in an old factory in the center of the Netherlands, in Utrecht. The platform provides an overview of the latest trends and developments in the children's fashion industry and the aim of the first edition was for the organizers to present at least 30 brands on the exhibition grounds. However, the start of the first trade fair met with such a positive response that 80 brands finally took part.
This may also have something to do with the fact that the "Kleine Fabriek" in Amsterdam no longer takes place and the exhibitors were looking for a new location for their presentations.
Faisca Gugelot of FG Modeagenturen wants to stick to a few proven things when continuing the Sunday School: "In the second edition, the factory should definitely be kept as the location as well as the varied range of small and large brands. I was also very enthusiastic about the fashion show which was not to be missed this time either."
"SundaySchool" brand portfolio
Among the exhibitors are brands such as: 4funkyflavours, Absorba, Babyface, Bambini Manufakturer,  Beebielove, Blue Seven, Converse, Cost:bart, DKNY, Esprit, Ewers, Geisha, Ipanema, Imps&Elfs, Jellycat, Kiddo, Le Chic, Levi's, Money, Nobell, Noppies, Reset, Skooter and Vingino.
In addition, visitors of the SundaySchool can look forward to two more fashion shows in this edition.